The French national train company (SNCF) will undergo a series of planned strikes between April and June 2018. In particular, two strikes periods are planned on April 18-19th and April 23-24th, respectively overlapping with the RECOMB satellites and main conference.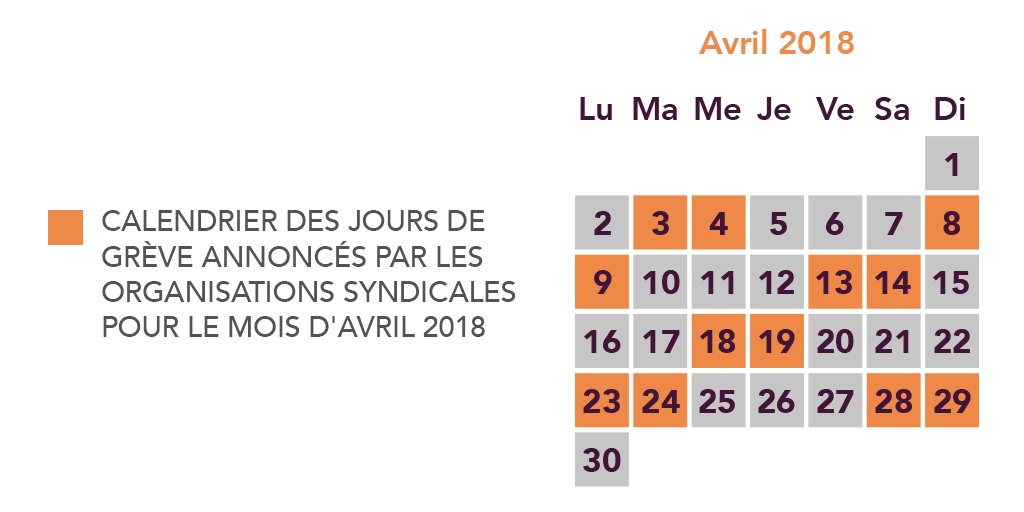 Strike days are tagged in orange above, but gray days may also see a limited/delayed train traffic.
Expected impact
Long-distance trains from/to Paris: During the strike days, tagged in orange above, it will be very difficult to catch a train to/from a French or European destination. Gray days may also see some delays, and you may experience difficulties booking train tickets.
Flights: Currently, there has not been any announcement of strikes within flight companies for the period. However, the RER B, which usually is the preferred way to commute between Paris and its airports, will be (probably strongly) affected by the strike.
Within Paris: The impact of the strikes is expected to be minimal within Paris, as the metro is managed by RATP. RER trains, however, are co-managed by RATP and SNCF, so try to avoid those in your inner city journeys.
What to do?
Avoid booking a hotel outside of Paris (or try to change your reservation). Most places outside Paris require a, highly-disrupted on strike days, RER ride to reach the conference location;
Consider taking a taxi on your airport/Paris journey;
Favor flights over trains;
If you must travel by train, book your train tickets as early as possible and check out the latest news on the SNCF website and on the dedicated SNCF app.